4 Tips for Building Tiny Homes on a Budget
Planning a tiny house build to save money? We share four big tips for constructing your home on a budget.
Half of the population would consider living in a smaller home. Do you want to go tiny? Tiny houses are becoming more popular, and we're seeing huge numbers of millennials and those looking forward to retirement move into these cute, compact dwellings. We're all aware that millennials struggle to buy homes, and 64% of Americans plan to retire with less than $10,000 in savings. But if you're choosing to go tiny, it is possible to build your dream space on a tight budget.
This article will look at how you can build a tiny home with a small price tag.
One of the most important things you should do before you start building is to work out a detailed plan. Always remember that proper planning leads to better outcomes. In contrast, a lack of it will lead to unanticipated costs and wasted time. This begins with research about how to build and choosing a design to meet your needs.
The overall size and layout directly affect all aspects of your build, including the cost and materials needed. So it follows you need physical tiny house plans to help guide your overall planning and budgeting.
Will you create your own floor plans, follow plans you buy online, or hire an architect?
Although hiring someone will take up a lot of your budget, it will ensure you don't go wrong and avoid expensive guesswork. Get quotes from architects, contractors, and builders to compare quotes and determine how much it's likely to cost you to build.
A much less expensive option that also brings much reassurance is buying professional-quality tiny house plans. These come with material lists to help you create a realistic budget.
Here's a detailed cost breakdown of the original hOME tiny house build.
Of course, the most affordable yet somewhat risky option is to create your own plans. Read this design and engineering article with oft-missed design details, crucial to consider during the design process. Also, check this incredible Sketchup tutorial by Tiny Nest. Their site also features a by-donation SketchUp project file of their DIY tiny house.
2) Work out a Budget and Stick to It 
It's time to assess your finances. Without doing this, you'll have no idea whether you need to scrimp and save for months or whether you can afford to buy quality materials now. A budget estimate is a financial plan for your entire design/build process. It is the monetary equivalent for all the work and materials it takes to complete your tiny home, including:
Trailer purchase
Framing, insulation, siding, roofing, etc.
Electrical and plumbing (contract labor or materials for DIY)
Appliances and furniture
Start with what you can realistically afford.
Again, you need an overall tiny house build cost estimate to help you develop a sensible and practical budget. You'll also want to add 10% extra for contingencies. This will help you be prepared for any financial surprises during your tiny house build.
Remember, the overall cost varies significantly on the size and materials used.
For instance, a DIY 30' tiny house can cost $10-20,000 more than 20' THOW. Building a butcher block countertop from scrap is much cheaper than artificial stone counters in this same vein.
To create a realistic number, you can start by pricing out cost all materials you need and want (based on new material costs). From there, you can seek out cheap shops in your area for discounted options. For example, building suppliers and reuse centers will usually be able to provide you with better deals than big box stores. Hunting for bargains can help you drive down your costs considerably.
Keep in mind, while the savings can be huge with building a tiny house from scratch, another great option to consider is purchasing a shell. It provides the best of both worlds, professional quality where it counts and gratifying hands-on building to complete your tiny home. Importantly, the price point is higher than a full DIY build but significantly lower than a professionally built house. Further, RV-certified shells are available with financing options, as well as completed plumbing and electrical.
3) Ask for Help
Before building your tiny home, it's worth getting some DIY experience under your belt. There are now many online courses you can follow to learn building techniques. A little research and training can go a long way in saving you time and money on critical mistakes during your build.
If you know what you are doing, it's a good idea to DIY as much as possible. But, if you have limited experience, ask a friend or family member who has some building chops for their help! Another excellent way to avoid or correct mistakes.
For us, we were fortunate to have the mentorship of a carpenter friend. He would occasionally review our work, and when we got stuck on a particular step, he offered guidance on how to move forward.
Also, ask for help in finding a place to build or for borrowing the necessary tools.
If you don't own tools, you'll need to buy, rent, or borrow them. Keep in mind that using your friend's tools is the least expensive option, BUT be respectful and take good care of them!
Additionally, if you can't find a free or low-cost place to build from your personal network, consider building at a Makerspace. While you'll have to pay for a build site and storage fee, you'll have access to a wide array of tools. Even better? They offer a sense of community, with free-flowing advice and moral support from other DIYers.
4) Find Reclaimed or Surplus Materials
Finally, this tip is one of the best ways to save money and reduce your home's impact on the planet too. Save on building materials by scouring used building supply businesses to deconstructing vacant houses yourself or scoring free materials from construction sites.
Networking Tip: by connecting with the local Habitat Restore procurement & logistics director, we received tips on materials they couldn't accept. That's how we ended salvaging tongue & groove paneling from an old house scheduled for demolition!
Additionally, when prepping for our tiny house build, we scored perfectly good plywood sheets from a new construction dumpster (with permission, of course!).
However, you will need to begin your search for reclaimed materials well in advance of your tiny house build to ensure you have everything you need.
Important notes:
While salvaged and reclaimed materials can result in significant savings, they are much more labor-intensive to process.
Hunting for free or low-cost materials takes time! Fortunately, it's a great way to reduce the amount of upfront expenses for DIYers.
Check out websites such as Craigslist and Facebook Marketplace or simply ask around locally about unused, free, or low-cost materials. You may find everything from reclaimed windows to siding and lumber.
Here are a couple of amazing reuse building supply stores that we've come across during our tiny house travels: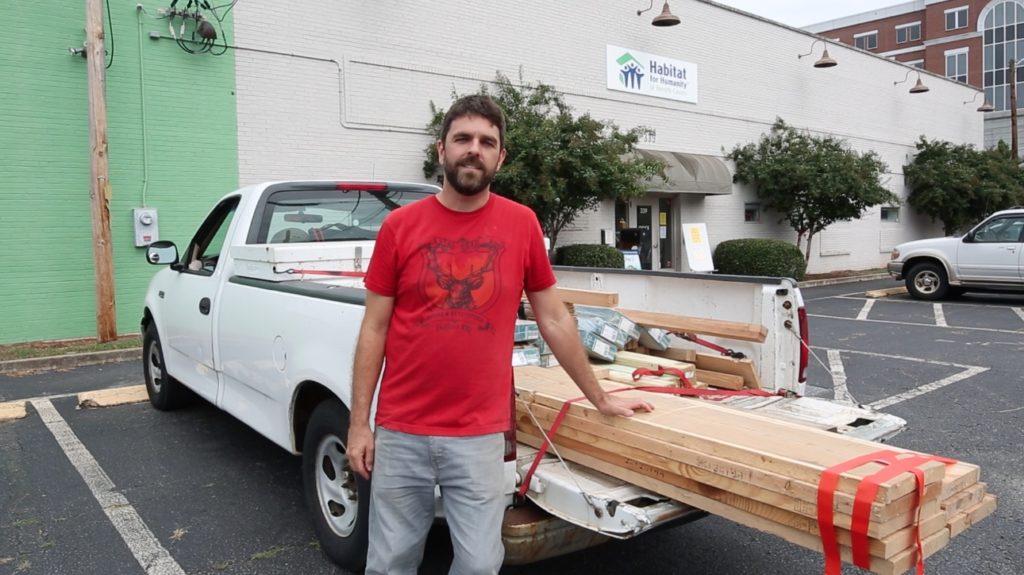 Building a Tiny Home on a Budget is Still Possible
With these tips, you will be able to build a tiny home that is just right for you and affordable.
A tiny home is also a brilliant way to reduce your carbon footprint. Why not add solar panels and make your home completely off-grid? If not in the initial budget, wire for them now so you can add them later.
Have you found this article about building tiny homes useful? Check out our advice blog for more tips!
Tour a DIY tiny house built for only $15,000!
Enjoy fresh tiny house build advice and inspiration from DIYers. And don't miss announcements on new offerings and sales!