Best Tiny House Flooring Options
Are you embarking on a DIY build soon? Researching the most suitable building materials and appliances should be high on your to-do list, including the best tiny house flooring options.
Sustainable, eco-friendly renovation projects are becoming increasingly popular in the world of home design as homeowners look for ways to reduce their home's impact on the environment. With that said, one of the best ways to minimize the size of your home's carbon footprint is to reduce the size of the house itself.
In addition to reduced energy consumption, tiny homes come with many other benefits. Tiny houses take less time to clean, are less expensive to insure, and are easier to move, making tiny homes ideal for those looking to live a minimalist lifestyle.
Nonetheless, despite the many advantages of choosing a tiny home, a few challenges arise from living in cozy quarters. Most notably, daily traffic will expedite wear and tear in such a concentrated space. Nowhere is this use felt more heavily than the floors. So it is essential that you carefully consider the available options when installing the floors in your tiny home.
Keep scrolling to examine the best tiny house flooring options & innovative floor heating.
Choose Hard Materials Over Carpet
Carpet has its place as a flooring option--just not in the world of tiny homes. No type of flooring shows signs of wear or requires as much maintenance as does carpet. This is especially problematic in a tiny house that will not feature a mudroom for dirty shoes or closets to store a vacuum or carpet shampooer.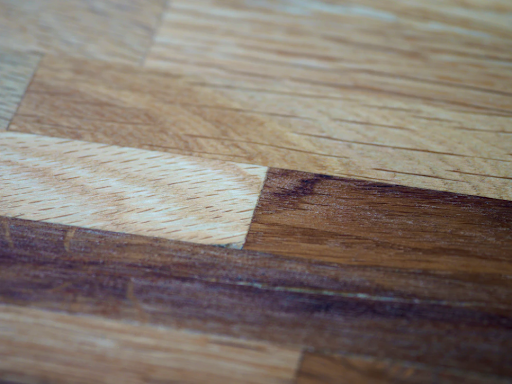 A hard floor, such as engineered hardwood or luxury vinyl tile, will be the better choice when living in small quarters. Additionally, they cost less too.
Not only will these be more durable options to withstand the wear and tear of concentrated use, but they can be cleaned with a broom or Swiffer wet mop. This allows you to keep your floors looking good with a fraction of the resources.
Select Synthetic Materials to Prevent Water Damage
Make no mistake, water damage to a floor is undesirable, regardless of the home's size. However, it is especially disastrous in a tiny home, as there is really nowhere within the house that you can move while the damaged floor is being worked on.
While some tiny homes on wheels may not even be connected to sewer lines, eliminating the threat of water damage from leaking pipes, porous flooring materials. For instance, some ceramic tiles and other options held in place by grout can easily accumulate moisture buildup from everyday spills that will eventually lead to mold and staining.
Therefore, consider modern, synthetic vinyl flooring for your small space. These floors come in several aesthetically-pleasing designs that will vibe well with any ambiance, with waterproof features that will make your floors immune to moisture damage.
When your house is only 130 square feet, you basically use everything and interact with every surface, every day, especially the floors. We installed and sealed our original hardwood floors when we first built our tiny home. Since then, they've become worn from foot traffic and moisture issues.
Keeping water off the hardwood floors had been a significant challenge. As a consequence, the finish wore away and exposed the raw wood. This means the floors continued to wear down faster and faster. What's more, it caused the boards to expand, creating gaps between the seams. Dirt accumulates here. It became a burden to clean. We could sweep and sweep and sweep and never get it all out. We would need to refinish them about every year to continue maintaining these floors.
We ultimately decided to install new waterproof laminated wood floors. What was especially appealing to us is that they have an authentic look and feel of hardwood. Further, they are more lightweight (half the weight of hardwood!) and protected from potential water damage.
Looking for tiny house building materials?
Check out our Resource Directory for our recommendations for trailers, appliances, and other tools to help you fulfill your tiny home dream.
Take the Next Step!
Sign-up for our acclaimed 16+ hour Digital Tiny House Workshop. Learn how to build a tiny house on wheels, the legalities to be aware of, how to make the transition to living tiny, and more!
INCLUDED with the DIGITAL WORKSHOP:
54 bite-sized, engaging episodes
Downloadable follow-along booklet for note-taking
Over $300 in FREE bonuses, from tiny house plans to more how to's
Digital Diploma upon full completion of the course
30-Day Money-Back Guarantee
Give Priority to Options that Are Easy to Install
While some options, such as solid hardwood and ceramic tile, look elegant and can add value to a home, they often require professional assistance to install. As such, these types of materials go against the grain of a low-cost, DIY minimalist lifestyle.
When further considering this point, engineered and synthetic options that can easily click into place mesh better with the do-it-yourself sensibility than their more labor-intensive, "authentic" counterparts.
Use Innovative Floor Heating Materials
A major advantage of a tiny home is that it can be effectively zone heated without the need for an energy-draining HVAC system. Nonetheless, there will likely be times when the preferred hard flooring option will get a little icy on brisk winter mornings (and of course, trailer & floor insulation makes a huge difference).
To help mitigate this issue, consider the advantages of a radiant floor heating system. This innovative product directly warms people and objects in the home through infrared radiation. It creates a stove-like atmosphere that keeps your tiny home cozy even in the coldest conditions.
Importantly for those considering a tiny house on wheels build or custom mobile conversion, there is now a radiant floor heating system suitable for moving homes.
Best Tiny House Flooring Conclusion
To help ensure that the floors in your tiny house look great, withstand the wear of a snug lifestyle, and provide you with optimal livability, consider the materials listed in this article when making important floor decisions.
Guest Post by Matt Lee
Matt Lee is the owner of the Innovative Building Materials blog and a content writer for the building materials industry. He is focused on helping fellow homeowners, contractors, and architects discover materials and methods of construction that save money, improve energy efficiency, and increase property value.
A Tiny House with Radiant Floor Heating