Have you ever wondered what it would be like to live in an RV full time and travel around the country? Our friends Kayla and Bill Widmer are doing just that! They are creating the lives that they want and supporting themselves in the process. Read below for some great insight and tips on what it's like to live in an RV full time. 
Life on Wheels: What It's Like to Live in an RV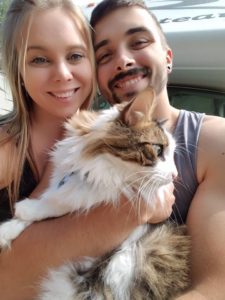 Kayla and I are currently living in an RV and traveling the country. We left behind our friends, family, and about 80% of our belongings to do this – and we're always asked the same questions…
What's it like to live in an RV? How can you afford that at such a young age?
And, my personal favorite… Don't you two get sick of each other?
My hopes are to answer all of these questions (and no, we don't get sick of each other – usually!) I'll tell you a little bit about the high points and low points of living in a house on wheels. I'll also tell you about how Kayla and I†"deal" with being around each other so much and how much our lifestyle costs.
Ready? Let's dig in!
The Highs and Lows of Living in an RV
Living anywhere has its pros and cons. Some have more cons than others.
For us… well, we love our lifestyle. It's a dream of ours that took two years to grow to fruition. However, it's not all rainbows and butterflies. We've had a few low moments, and they weren't much fun.
The Good Times
The good things about living in an RV? I could go on all day, but…
You get to go ANYWHERE you want WHENEVER! How can you beat that?
If you don't like a place, whether it's the people or the scenery, you can just break camp and say "sayonara!"
You meet some truly incredible people. We've created friendships that will last a lifetime.
You can chase warm weather. Yesssss, eternal flip-flop weather…
There are always cool things to do – we're almost never bored. Campfires, local cuisine, kayaking, camping, hiking, biking, cookouts with your neighbors, festivals, cities… OK, I think you get it.
You can save a lot of money if you do it right!
Because you're eternally traveling, you really broaden your perspective on life. You'll naturally become more creative, more empathetic, and a better problem solver…
…which leads me to the not as glamorous parts of living in an RV.
The Not-So-Good Times
Remember my "not always rainbows and butterflies" comment? Here are the less-pleasant aspects of RV living:
Things will go wrong, and you need to fix them. We've had to fix our oven, recaulk our shower and roof, repair our awning†and more.
It's a lot of work. You're living in a house that rumbles down the road at 60 miles per hours – all that shaking means you need to spend more time doing maintenance tasks.
Speaking of work – if you have a motorhome, you also have an engine that needs its own maintenance and repairs.
Just like tiny homes, in an RV you have very limited space. We've done a lot of things to save space in our RV, but we still miss our old kitchen counters (and I miss my big office).
Because of the limited space, we don't have much personal alone time. However, we resolve this by going for solo walks, bike rides, or just sitting in the same room with our headphones in.
You have to drain your own poo. Not as dirty a job as it is for plumbers, but still not for everyone.
As you can see, there are more good times than bad ones. And, at least for me, the bad stuff isn't too terrible. Yea, we miss a lot from home, but the benefits we get by living this lifestyle make it all†so worth it. It all comes together when you hike a mountain 5 states away from "home" and see those incredible views; or†when you meet some cool campers at your campground and talk for hours around a fire, creating a bond that will last a lifetime.
So how much does this life of adventure cost?
The Costs of Living in an RV
Believe it or not, living in an RV is actually really affordable. In fact, if we didn't eat out so much (we both love food, probably too much), our new lifestyle would be less expensive than life at home renting our two bedroom apartment in the city of Scranton, PA.
Here's a breakdown of our monthly costs (I'll explain them afterward):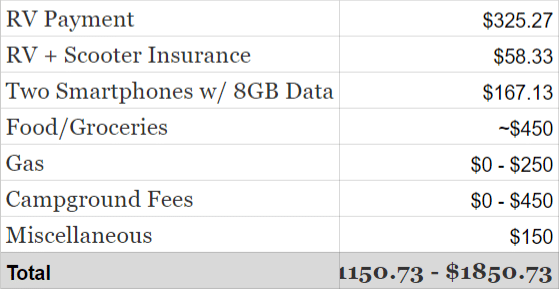 Our RV is a 31-Foot 2006 Four Winds Class C Chateau which we bought off my aunt at a good price. It's a hefty 15-year loan, but we don't plan on keeping it for that long (or if we do, we'll rent it out to make the money back!)
†We tow a 250CC scooter as our way to get around without taking the RV. Insurance for that is a measly $75/year, and our RV is about $625/year.
We both have smartphones with a fair amount of data because we have to be connected in order to make our income. More on that later.
We spend roughly $450 per month on food and groceries. This can vary widely depending on how frugal we're feeling and how much we eat out.
Gas can get pricey if we go for long trips. However, there are times we'll stay at one campground for a month or more, meaning we don't use any gas. The gas for our scooter is virtually non-existent (60 miles-per-gallon, yes please?)
We try to stay at campgrounds for at least a week at a time to get better rates. The reason the starting point is $0 is because we sometimes work at the campgrounds (aka "work camping") for a free site. More on that later as well.
The extra $150 is for other expenses (like Kayla's obsession with slim jims and iced coffee, or entertainment like going to the movies or taking a guided tour).
So, if we don't spend too much money on food and stay in one spot and work camp, our expenses are less than what we paid to live in our apartment. How cool is that?!
So that's great and all… but it doesn't matter how affordable it is if you can't make any money. How do you make money on the road?
Creating a Mobile Income
Our lifestyle simply wouldn't be possible without our mobile jobs. Kayla and I are both self-employed – we work as freelance writers. In addition to our online jobs, we also work camp for free stays at campgrounds, and sometimes even extra income if business is slow.
How Does One Become a Freelance Writer?
Great question! I have no idea. Ha-ha, just kidding (well, sort of).
I just happened upon this profession. I went to college for marketing and worked as the chief marketer for a small online vitamin company. So I have a background in internet marketing.
Kayla, on the other hand, earned her CDA (Child Development Associations) certificate. She worked as a preschool teacher.
I was tired of working for someone else and making them money (plus I had a major itch to travel), so I got thinking of ways I could make money on the road. I tried a whole host of things – from selling promotional products (think hats with people's business logos on them) to opening eCommerce stores. One day I stumbled upon a nifty site called Upwork.com where I got my first writing job…
…which paid $5 an article.
I spent about 10 hours writing 5 articles for my client and made $25. And I loved it.
So I began doing more research into this whole writing for a living thing†and found another (even better) site called jobs.problogger.net. It's a job board where people post writing work. I found a few major clients and started earning a full-time income, and now here I am. I guess the free certificate on Inbound Marketing I got from HubSpot helped.
From there, I taught Kayla everything I knew and helped her craft some application emails, and she ended up building her own client base as well. Now here we are!
What About This Work Camping Thing?
Work camping is fantastic. It's a way for you to work – either for pay or for a free campsite – at campgrounds across the US. Our first work camping experience was with Bethel Outdoor Adventure†in Maine, and it was great!
We found our opportunity by simply calling campgrounds in Maine and asking if they would exchange work for a free campsite, and they happened to be the first ones we called who said yes.
However, there is an awesome website called workamping.com where you can find campgrounds advertising work camping positions. You can even make a full-time pay doing this. We know a couple who actually worked at a campground full-time and the owners paid to put them through college!
Some things you might do while work camping:
Cleaning bathrooms
Running the front desk
Paperwork
Cleaning other stuff
Cooking
In our case, hauling boats and driving trailers
There are plenty of opportunities out there if you know where to look. Living in an RV – like living in a tiny house – isn't for everyone. But it's by far the most rewarding experience we've ever had, and I know it's only going to get better as we continue doing it.
I hope this post helped clear things up about what it's like to live in an RV and some of the associated costs! If you have any questions†or want to follow me and Kayla's adventures, check out our blog†The Wandering RV. Happy camping!